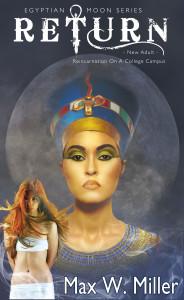 Hailed by readers as a "Great Book," Return is the first in this New Adult Paranormal Series. This contemporary novel spices up a college campus with ancient Egypt, astrology, psychics, and reincarnation.

Megan Smart, a pampered, reserve, freshman, takes a pre-college trip to New York City with her parents and star quarterback boyfriend, Tyler. Never could she have imaged she'd come back haunted by memories from another time.

On a private tour, Meg, as she is called, is warned by the curator not to touch pieces of uncategorized artifacts. But something beckoned her as if a telepathic message reaches out from another time.